Why Meal Plan?
If there is one thing you can do to make your kitchen life easier and less stressful, meal planning is the answer every time. Meal planning truly is the thing that will make the biggest impact on your health, budget, stress level, and cooking skills.
With that said, the most important reason you should start meal planning is to enjoy mealtime again. Feeding your family should feel good. It should bring joy.
Sign Up
Here's why meal planning will fundamentally change your life in the kitchen:
1
Eat healthier
It's easy to say we want to eat healthier, but then hunger strikes and we reach for what we are used to. If you really want to change your habits and get healthy, you have to have a plan for your meals. And they better taste good. Armed with a meal plan, you'll avoid sugary snacks, processed convenience food, takeout, and other unhealthy choices.
2
Save money
Most of us go to the grocery store without a list and without a plan. Get organized before you go to the store and you won't waste money buying things you don't need. It's that simple.
3
Reduce waste
It's estimated that between 30 and 40 percent of the food produced in the United States becomes food waste. That's 1 pound (450 g) of food per day per person. Not only is that expensive but it's not great for the environment either. When you go to the store with a shopping list based on the recipes and foods you are going to eat, you can greatly reduce the amount of food you waste.
4
Learn to cook
"If you can read, you can cook." I couldn't agree more. The easiest way to learn to cook is to get in the kitchen. Cooking a variety of dishes every week with different proteins, produce, and techniques will teach you to cook. You'll build confidence, understand how flavors work together, and pick up new skills.
5
Avoid getting bored
Without a well-laid plan, most of us see a recipe that makes our mouth water but then we end up making the same thing again and again and again. Food should be fun and exciting. No one wants to eat chicken breast and steamed broccoli every night.
6
Reduce stress
Imagine a world where, every single night, you could confidently answer the question, "What's for dinner?" Your fridge and pantry are stocked with all the ingredients you need. There's no need for last-minute trips to the grocery store. You've got a recipe ready to go that tastes good, is easy to prepare, and is actually good for you.
Why Meal Plan with Slender Kitchen
As a busy mom and business owner, I created the product I needed.
Kristen McCaffrey, author of "Stress-Free Family Meal Planning" was all too familiar with the dinnertime struggle. Even though she created recipes for a living at SlenderKitchen.com, she found herself dreading dinner time. With two young kids and a busy schedule, she knew there had to be a better way.
After unsuccessfully scouring the market for a product that would work for her, she decided to build her own. Slender Kitchen meal plans are:
Thoughtfully created by a human each week.
Focused on recipes using real foods like fresh veggies, whole grains, healthy fats, natural sweeteners, and lean proteins with room for melted cheese and chocolate chips.
Easily adjusted to work for busy homes.
Easy, healthy meal plans for busy homes.
What if dinner time was easy?
Now it can be! Everything you need to get healthy meals on the table.
Easy to follow, foolproof recipes
Ideas for leftovers to save time and money
Affordable and easy to find ingredients
Adapt and adjust to your schedule and needs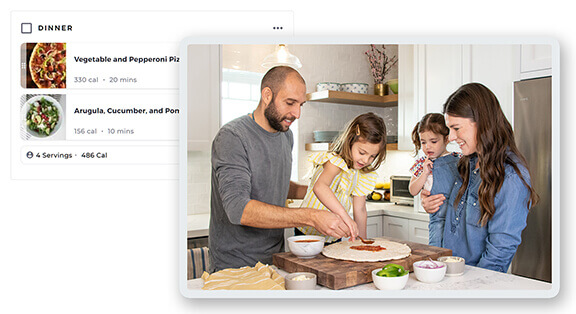 The single most important thing that meal planning can do is help you fall back in love with mealtime. Cooking and nourishing your family feels good and with a plan, mealtime becomes something you look forward to every day.
Ready to make meal time easier?
Sign Up